The shelves in toy shops and supermarkets are filled with children's products: toys in all shapes, colours and materials for children of all ages. Keeping track of this jungle and picking good, suitable toys appropriate for the child's age and stage of development is, as a result, not always easy. Although the nature and particular taste of each family plays an important role in the selection of toys, there are a few criteria which should generally be kept in mind when choosing toys: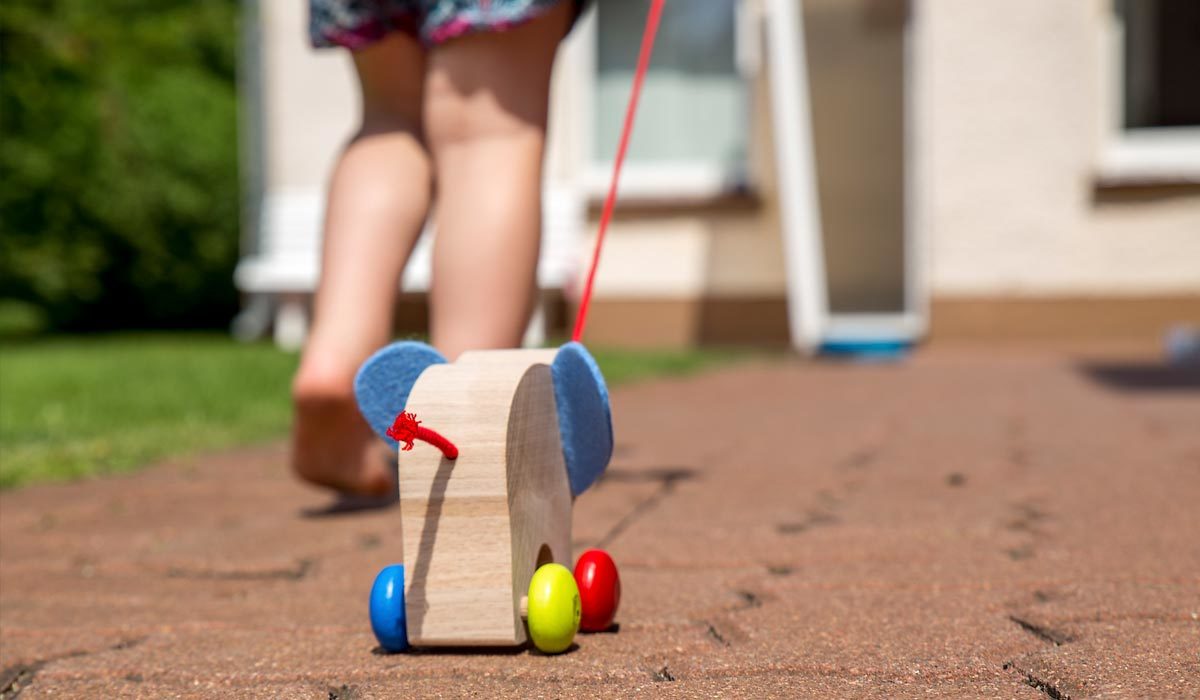 • Toys should allow children to interact with them in a variety of different ways. Small children in particular want to investigate toys with all their senses—not just to touch them with their hands, but also stick them in their mouths, turn them around and hit them on the floor. A good toy should withstand this "endurance test" and be capable of being put to many different uses.
• Since babies' and small children's toys are put to so many uses, attention should be paid to the materials, coatings and small parts used: they should contain no plasticisers, no toxic coatings or varnishes, and no small parts that might be swallowed. Seals of approval such as the GS mark for certified safety (wear resistance), a TüV mark (safety and pollutant test by the German Technical Inspection Association) or the red "good play" badge for pedagogically valuable items are a good indication. In addition, nowadays the use of raw materials from sustainable cultivation, such as sustainable forestry management for wooden toys, is important evidence of careful toy production.  The CE mark confirms that all of the minimum requirements of the EU have been met. All toys for sale in Germany must carry this mark.
• Even though there is a wide range of toys available, durability is still an important criterion of quality: the toy should not just look robust, it should also be capable of being put to a variety of uses over a long period of time. Wooden building blocks with prints can, for example, act as a first puzzle, but they can also be used to build a tower. Before deciding to buy, it is therefore sensible to ask whether the child will be able to play with it in different ways for a long time. Or does the toy only allow limited activities and is its functionality restricted? Does it have scope for imaginative interaction, or is its design very detailed, allowing for only a few alternative options for playing with it?
Long-lasting toys are durable
Although we are sometimes led to feel that toys must be constantly replaced and renewed, durability and functionality are important properties for toys—especially today with thoughts of a worthwhile future for our children. As is often the case with toys, less is more if special attention is paid to quality and children can enjoy these special toys for a long time.
This is an article by our guest writer Susanne Mierau. She is a mother of three children, trained educationalist (specialising in infant pedagogics), family counsellor and the editor of online parenting magazine geborgen-wachsen.de, as well as author of guides on the topic of living with babies and small children.
You might also be interested in the following:
Do babies have to learn to play?
If we take the time to watch a baby, we can see how they occupy themselves: they look around with big eyes, perhaps stopping here and there to focus on a particular object. If they see another person, they look into their face and imitate their facial expression. If they are bigger, they grab at [...]
The right place for my baby to sleep
There are few topics which cause so much worry for parents as their child's sleep and the ideal conditions for sleeping. The way your baby or child sleeps—whether for an extended or short period, and whether they are an "owl" or a "lark"—is essentially predetermined. We cannot teach babies to sleep because, in many respects, [...]
What does a baby see?
Theoretically, babies can already see when they are still in the womb. However, in contrast to auditory perception, sight is the least developed sense. We explain how a baby's ability to see evolves in the first months and which toys are appropriate. When new-born babies first see the "light of the day", they initially see [...]