The time has finally arrived: Lisa has just celebrated her third birthday and now she is going to nursery. As she leaves her mother she gives her a cheery wave, turns round and hurries over to her nursery group. Her mother is relieved, and at the same time a little sad. Her daughter is getting bigger and more independent. The time has come for the whole family to strike out in different directions, and she can become a little more flexible in her daily routine.
However, a gentle transition is required for a successful start at nursery; if familiarisation can be achieved sensitively, success is guaranteed. This means that your child's very first days at nursery are particularly important.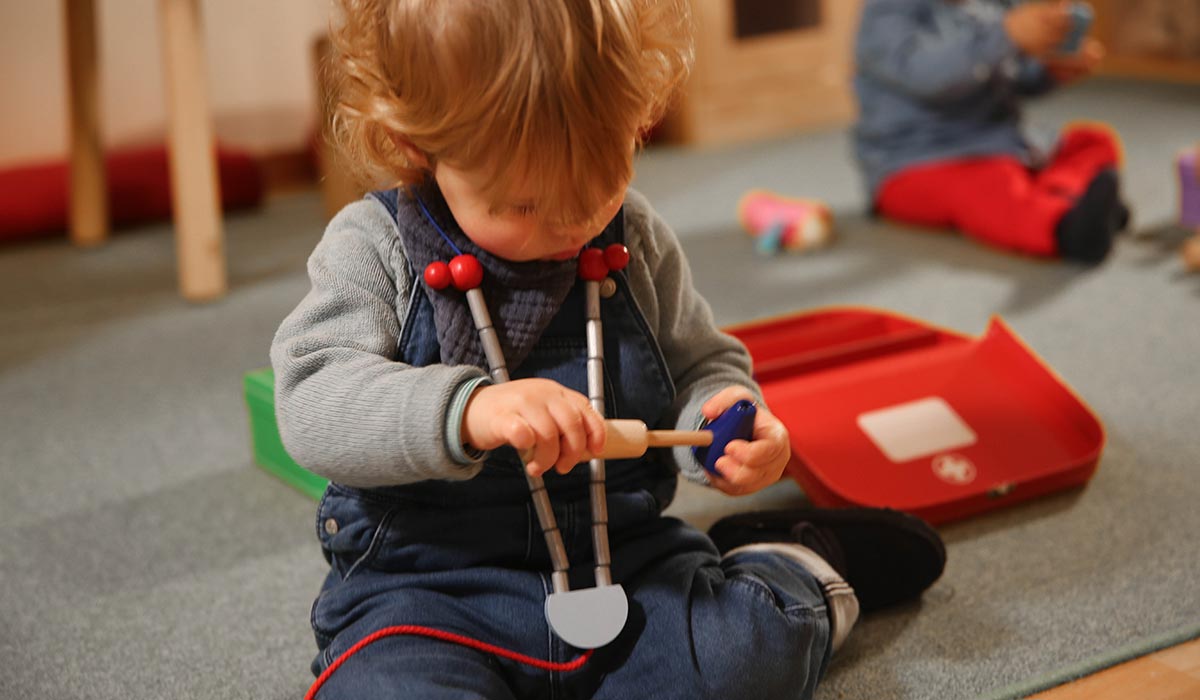 The first steps into a new life
Attending nursery should be a rewarding adventure for your child in which they meet new playmates, try out different toys, hear unknown languages and learn exciting games and new songs. Every day is different, despite the regular routines, so there is always something interesting to discover.
What should you do if your child doesn't want to go to nursery?
'I'm not going to nursery today!' Practically every parent recognises and dreads hearing these words from their child. However, particularly in the acclimatisation period, you should not give in to this challenge (provided that there is no valid reason for it). Stay loving, but firm. Once the everyday morning routine has grown to be a habit, going to nursery will feel much more natural to your child, and you will no longer need to bargain with them every day.
How a child can settle into nursery according to the established 'Berlin Model'
The Berlin Model is a method offered by many nurseries. It is divided into three phases, although these are treated flexibly and adapted to the individual needs of each child.
The base phase: parents and child gradually explore the nursery
In the first few days, the child, together with a parent, spends just a short time at the nursery; the time gradually gets longer day by day. During this process the parents take more and more of a back seat, while still remaining within reach of the child. This gives the child the opportunity to explore the nursery bit by bit in the safe presence of their parents, without developing separation anxiety.
The stabilisation and separation phase: your child 'arrives' at nursery
As soon as the child has found their feet, the parents start to pull away more and more. Now they leave for a short time, although they stay in the cloakroom area or in a group room. This means that the child can find their way back to their parents at any time. The child spends more and more time at nursery. In this way they learn their new routine almost automatically. Once they no longer need their parents, the parents can leave the nursery.
Final phase: your child has established a relationship with the teachers
The child now stays at nursery for the planned time and has got used to the new routine. They have found new friends and allow the teachers to comfort them. Although the parents can still be reached by phone, they are able to get on with their own daily lives.
3 tips for preparing for the world of nursery
Tip 1: Since it takes your child around four weeks to settle into life at nursery, it is a good idea to start the process at least a month before your return to work, if this is planned. Visit the nursery together with your child for the initial discussion with the teachers.
Tip 2: Take advantage of the nursery's open day to gradually make your child aware of this new place, so that it will not be so strange to them when their first day of nursery arrives.
Tip 3: Together with your child, look at a picture book that shows everyday life at nursery. Also let your child pick out their choice of nursery bag and lunchbox when you go shopping for these. This enhances their anticipation.
If your child understands that a new but rewarding time has come, they will greet this change with excitement. Now Lisa can proudly announce: 'Mummy and Daddy go to work, and I go to nursery.' She has taken to her new role wholeheartedly and successfully arrived in her 'new world'.
You might also be interested in:
Why even small children need friends
A good friend is the best thing in the world, as an old German hit from the 30s had it. Then as now, that message holds true, even for small children. Of course, friendship between young children is different from that between adults. Read on to find out how children make friends and the extent [...]
These are your baby's seven senses
Newborn babies come into the world complete with all seven senses. Some of these have yet to fully develop, while others are even more pronounced than those of an adult. Which senses does your baby have, and how can you gently encourage their development? How many senses does a human being have? The number of [...]
How to childproof your home
When their baby starts to crawl at the very latest, parents should examine their own four walls for potential hazards. Read on to learn about the dangers that lurk in each room and how you can take the necessary precautions. It is lovely when children become mobile and begin to explore their environments, but for [...]